Model Selector
Your Ultimate Service Center
We offer everything you need to keep your Hyundai in top condition.
Schedule Service
Exclusive Offer for Active Duty, Reservist/National Guard, Veteran, and Retired U.S. Military Personnel.
Receive an additional $500 off eligible 2015 and all 2016 model year new Hyundai vehicles. Learn more by clicking below or contacting one of our capable sales team.
If you are not seeing any options, try expanding your search radius.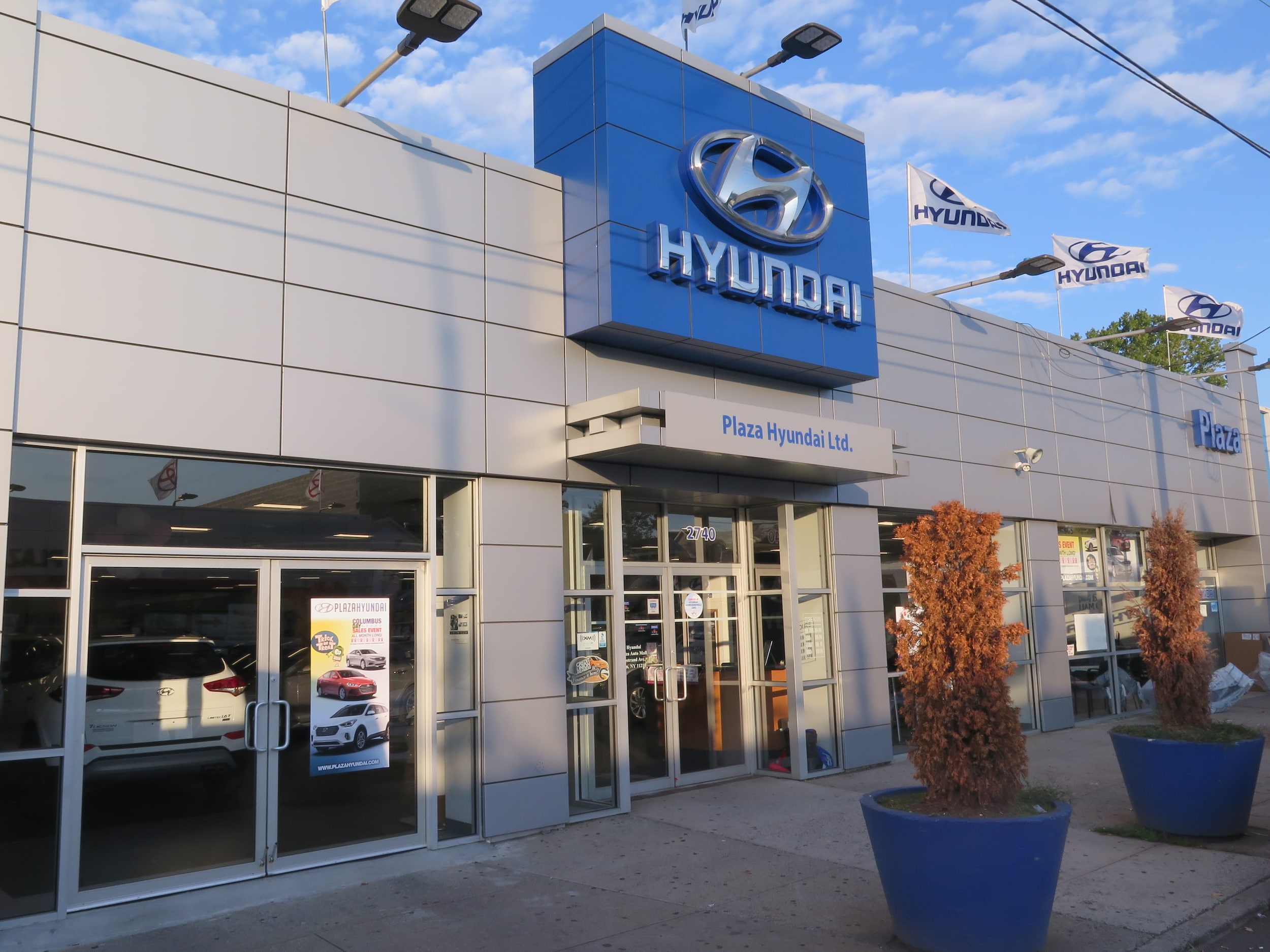 Plaza Hyundai
New York's Largest Hyundai Dealership
 
Plaza Hyundai is a part of the Plaza family of dealerships, whose rich history of serving New Yorkers with premium cars, trucks, SUVs, crossovers, and vans stretches back to the 1970s. We're thrilled to offer Brooklyn, Queens, Manhattan and the rest of our great city with outstanding transportation that won't break the bank. Our collection of vehicles can be browsed online, and in addition to offering new Hyundai cars like the simply irresistible Hyundai Sonata, the luxury level Hyundai Genesis, the adventure-ready Hyundai Santa Fe and Santa Fe Sport, and the tidy Hyundai Elantra, Plaza Hyundai also serves our great communities with Certified Hyundai cars, and used vehicles from a variety of manufacturers. There's something for everyone and every budget at Plaza Hyundai, located at 2740 Nostrand Avenue in the heart of Brooklyn, New York, so come into our warm and inviting dealership today to test drive your next new car!

Massive Hyundai Savings with a Certified Hyundai Purchase in Brooklyn, NY

Sometimes you want the option to buy used - but you're wary of the quality of the car you're looking at. Rest assured that a purchase of a Certified Hyundai car from Plaza Hyundai will make you the proud new owner of a quality car that's gone through numerous safety and quality checks, and will provide you with years of quality, enjoyable driving at a fraction of the cost of buying new. In addition to Certified Hyundai vehicles, Plaza Hyundai in Brooklyn, NY serves Brooklyn, Queens, and The City with a superior selection of used cars for those on a tight budget, but with a need of reliable transportation. Looking for something specific, and can't find it? Let us know, and we'll get to hunting for you!
 
| | | |
| --- | --- | --- |
| Largest Hyundai Repair and Maintenance Center in Brooklyn, NY | Budget Friendly Hyundai Financing in New York City | Get a Hold of Us - Night, Day, or Online |
| On top of our extraordinary selection of new Hyundais and quality used cars and Certified Hyundai vehicles, Plaza Hyundai in Brooklyn offers NYC drivers the opportunity to get their car repaired by the only in-house and certified Hyundai repair shop in all of Brooklyn. This special designation from Hyundai means that when it comes time for an oil change, new filter, tire rotation, engine repair, brake installation, or any number of routine and special fixes, Plaza Hyundai - and ONLY Plaza Hyundai - is able to offer you easy, accessible, and certifiably Hyundai-trained staff. | Once you've found the new, used, or Certified Hyundai car that best suits your needs, wants, or wishes, come into the friendly Finance Department at Plaza Hyundai. Our savvy staff will get you squared away with a financing package that works with your budget and credit score, and our outstanding relationships with New York City banks mean that we'll carry the weight when it comes to finding you sources of cash flow in the even that you should need it. | Reach out to our around-the-clock customer service reps online, and be sure to link up with us on popular social media sites like Facebook and Twitter to keep up with the latest happenings in Brooklyn at Plaza Hyundai. We'll share car maintenance tips, special event notices, and even a head's-up when a great new car deal is on the horizon at Plaza Hyundai, Brooklyn! Oh--and did we mention we're expert car photographers? |